Trojans, malware and spyware can steal your private data and compromise your security – Protect yourself with TrojanHunter®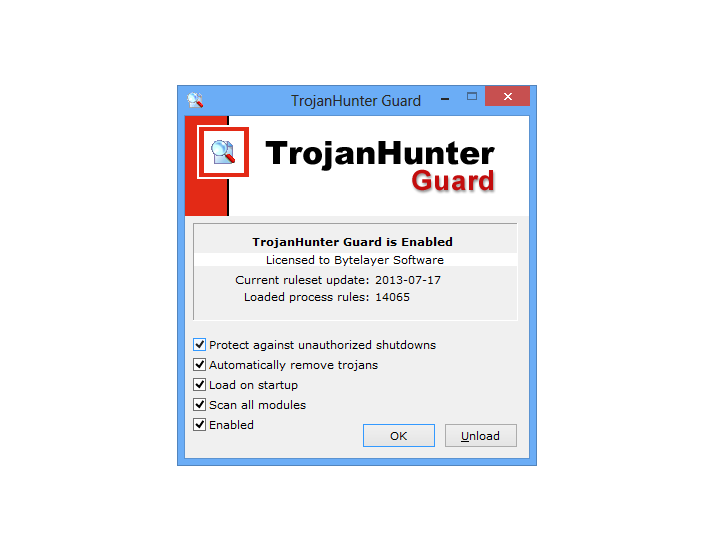 TrojanHunter is an advanced malware scanner that detects all sorts of malware such as trojans, spyware, adware and dialers. Just some of the features are:
Excellent detection rate
Scans memory, files, registry and ports
Scans archives and packed files
Extremely fast scan engine – don't waste hours waiting for results
TrojanHunter searches for and removes trojans from your system. With an easy-to-use Scanner and a Guard that scans in the background TrojanHunter is a must-have complement to your virus scanner. If you are downloading files from the Internet, you need TrojanHunter!
Features:
High-speed file scan engine capable of detecting modified trojans
Memory scanning for detecting any modified variant of a particular build of a trojan
Registry scanning for detecting traces of trojans in the registry
Inifile scanning for detecting traces of trojans in configuration files
Port scanning for detecting open trojan ports
The Advanced Trojan Analyzer, an exclusive feature of TrojanHunter, is able to find whole classes of trojans using advanced scanning techniques
TrojanHunter Guard for resident memory scanning - detect any trojans if they manage to start up
LiveUpdate utility for effortless ruleset updating via the Internet
Process list giving details about every running process on the system, including the path to the actual executable file
Accurate removal of all detected trojans - even if they are running or if the trojan has injected itself into another process
Built-in netstat viewer
Extensive help files
Free technical support via e-mail
The current version is TrojanHunter 5.5
Price (single user license): US$ 39.95
TrojanHunter runs on Windows 2000, XP, Vista, Windows 7 and Windows 8 (32-bit and 64-bit)